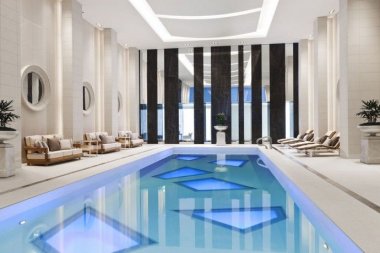 SPA TOWNS: mud-cure resorts and balneological and climatic resorts
Abastumani - a small town in the district Adigeni, Meskheti otskhisRiver Valley is located on the southern slopes. The resort is especially useful for people who suffer from tuberculosis. Curedpulmonary tuberculosis, Infiltrative tuberculosis of the larynx and other.
Nunisi - Recreation and natural beauty of the famous resort, Have always been known as having medicinal qualities of mineral (Balneology)waters. This holiday is especially useful for those who suffer from skin and nerve diseases caused by soil. You can drink water Zvare. And the low acidity of the water treatment Zvarebalance. There will be a resort of aesthetic therapy.
Tskaltubo - comprehensive resort and especially famous for its thermal - radonmineral water spas. Water is soft, and pure and has no smell, its temperature is 33-35 °. Tskaltubo mineral water cures the following diseases: extremities, peripheral nervous system, heart and blood vessels, skin, Disorder of metabolism, endocrinesystem, gynecological diseases. Tskaltubo also treats rheumatism, poliomyelitisand tserembraluri Palsy. Also a natural treatment for the karst caves microclimatebronchial asthma, angina, hypertension, neurosis, and chronic pneumonia. treatment in Tskaltubo lasts within 20-24 days.
Akhtala - is a historic mud-cure resort in Georgia, not far from the town of Gurjaani, Kakheti region. Mud is used in the treatment of Akhtala After fractures of the peripheral nervous system, radiculitis, pleksitis, ishiazis,poliumielitis residual effects, caused by cerebral palsy parezebis, healing of the abdominal cavity, skin and other diseases.
Ureki - is coastal resort with magnet sand. Here are cured people who have the problem with blood circulation organs, diseases of nervous system and breath organs.
Bakuriani - is a famous mountain - and the International Mountain Resort - a ski center. In 2005 he was the 2014 Bakuriani tsaradgenili host the Winter Olympic Games - one of the candidates.
Gudauri - Mountain - Ski Resort in Kazbegi district, the southern slopes, 120 km from Tbilisi - in the altitude of 2196 m. The skiing season lasts from December to April
Borjomi - The mineral water of Borjomi is used for curing since 40-y years of XIX century. Useful climate is also curable factor. The climate- balneotherapeutic health resorts are located on the south-eastern of Borjomi – Daba, Tsagveri, Tsemi, Tba, Libani, Likani, Bakuriani, Tsikhisjvari, Chitakhevi.
Borjomi is mainly represented with resorts – as well curable as famous winter resorts.The resort is located on the 1700 meters above sea level. Its climate and relief makes ideal conditions for development of winter sport. Winter is mostly windless and sunny, snow cover -18-98 cm-high, duration – from December till April.
Nabeglavi - sodium carbonated natural mineral water. The deposit is located in the vicinity of Nabeghlavi Chokhatauri village, on both banks of the river Gubazeuli. "Nabeglavi" characterized by a unique therapeutic and prophylactic properties, its use can be an unlimited number of people of any age. Nabeghlavi systematic clearance of the organism from harmful substances and its use contributes to the enrichment of essential minerals. Nabeglavi – is known with its mineral water. It is used for curing of digestive organs
Bakhmaro - Alpine Resort Chokhatauri municipality, Meskheti ridge, bakhvistsqlis River Valley, the upper part of the forest zone. Medical indications: respiratory tract, non-tuberculous diseases, anemia, nevrastenia, lymphadenitis.Season: May - October.
is climatic mountain resort, is used for curing of chronic diseases of breath organs and hypotonic cases, bloodless, in case of neurasthenia and lymphadenitis. In Bakhmaro takes place the traditional horse marathon in every year on the Transfiguration holiday.
Shovi - importance of climate - balneological resort. Pine forest, fresh air, atmosphere, and pure mountain bubling springs have calming effect on people.The comparison with other resorts Shovi younger. Healing Factor: mountain climate, and carbonic acid - sodium hydrocarbonate - calcium mineral water sources. Medical indications: respiratory tract, gastro - intestinal, and urinary tract diseasesof gall-bladder, lymphadenitis, and other secondary anaemia.
Sairme -The main curative factor is mineral water is carbonic acid balneological resorts.Mineral water "Sairme" belongs to the carbonic acid -sodium hydrocarbonatewaters potassic type. Is used for kidney, stomach, intestines, liver and metabolic diseases at the time of treatment.
Pasanauri – climate- balneotherapeutic health resort. Curable natural factors are climate of Shuamta and springs mineral waters. They are effective as well for drinking (in case of diseases of digestive organs), as for bathing procedures musculoskeletal system and diseases of blood circulations system).
Stepantsminda – (Kazbegi). Climate-balneotherapeutic health resort - prophylaxis, for curing of pylmonological,
gastrological diseases. Here is fresh and clear air, it has the positive influence on the breath organs of non-tuberculosis diseases. Beside of mountain climate here is also mineral water springs. These mineral waters are used for drinking-curing of diseases of digestive organs.
Aspindza - region is also famous with resorts and mineral waters. Aspindza itself is balneotherapeutic resort – its thermal waters are used for curing of musculoskeletal system, peripheral nervous system, rheumatism, blood circulation system, chronic gynaecological and skin diseases.
Beshumi Resort is climatic and balneotherapeutic health resort, is located on the 1830 meter above seal level, on the Goderdzi Pass. The main curable factor is fresh air and a less humidity, a lot of ultra-violet sunbeams, good drink and mineral waters, rich flora
Tsikhisdziri - is located on the 19-th km in northern from Batumi, is grown on the highland of Tsikhistdziri, sloping down into the sea and build the cape, which divides the coast into two parts: south (the coast is very wide sanded, the sun shines for a long time, the sea-front is deep) and north (the coast is thin and swimming is possible for everybody). Resort is built on the 60-90 meter above sea level, on this territory is located the oldest "Petra-Kajeti" castle, built in the 6-th century. The main factors of the resort are the sea and sun bathes