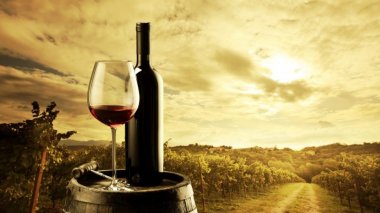 Any tourist interested in attending the wine-making process will be welcomed in our wineries. Moreover you will have a chance to try the unique taste of different Georgian wines kept in cellars for years.
8,000-year-old material evidence of grape stones inside many antique clay vessels found in archeological excavations gives Georgia the right to be proudly called the birthplace of wine. In the works of Homer and Apollonius of Rhodes you can find information about the ancient traditions of vine growing. EvenGeorgian alphabet is modeled after the shape of the vine's curly offshoots.
Wine is part of Georgian heritage including architecture, poetry, and songs, and is associated with celebrations, holidays, rituals and most importantly with Georgia's religion the Christian Orthodox Church. According to ancient tradition, St. Nino preached Christianity in Georgia, bearing a cross made from vine wood and bound with her own hair.
There are more than 500 aboriginal sorts of grape in Georgia.Over the centuries numerous distinct ways of wine production were developed for local-Kakhetian, Imeretian and Kartlian wines. In the 17th century a famous French traveler Chardin wrote that no other country in the world produces as much wine of such a high quality as Georgia.
LIST OF GEORGIAN WINES
Hereti
dry light and crisp wine, with notes of apple and almonds
Mtsvane
dry pale golden wine with an inviting nose of apple blossom and acacia and taste of poached pear and honey, and a lingering crisp finish
Rkatsiteli
dry wine fresh and zesty on the palate, with notes of crunchy apple
Tsinandali
dry wine, crisp and fresh with hints of melon and fruit salad
Tsolikouri
dry wine with inviting floral aromas with hints of rose petal and Muscat grapes
Tsinandali Special Reserve
dry wine, made only in limited quantities, with creamy and toasted nut aromas from partial ageing in French oak.
Saperavi Rose
a bright pink rose wine with fresh strawberry and peach flavours
Saperavi
dry uncomplicated but more-ish wine great for barbeques
Mukuzani
a dry deep plummy wine with inviting aromas of bramble jam, overlaid with spice and a touch of liquorice.
SaperaviUnfitered
a deeper and denser version of Saperavi with rich, inviting aromas of bilberry and cocoa powder, and plenty of toasty vanilla oak
Satrapezo
dry dense deep black red with intense aromas of forest fruit, dark chocolate, and hint of violet and vanilla
Saperavi Special Reserve
dry made only in limited quantities in the best vintages and from the very best vineyards sites in Kakheti
Mtascminda (Rose)
semi-dry wine with strawberry & caramel notes and undertones of fresh redcurrant
Tvishi (White)
Medium sweet fresh and zesty with notes of quince, pear and even a touch of mint
Kindzmarauli(Red)
semi-sweet made from only Saperavi grapes, a medium-bodied and deliciously smooth wine, crimson pink in colour, with notes of red cherry and spice
SPARKLING WINES
Bagrationi (Brut)
aromas and appetizing flavours of green melon and apple, with a crisp, dry but mild finish. A classic start to any special occasion or celebration.
Bagrationi (Rose Semi-Dry)
A pretty salmon pink wine, naturally sparkling with lively bubbles and made from a blend of local grapes including a touch of Saperavi to give the pink colour and gentle strawberry-ishflavours.
Khvanchkara
sweet, one of Georgia's unique gently sweet red wines made from a blend of two local specialties - Alexandreuli and Mujuretuli - and grown in the controlled appellation zone of Khvanchkara, on the picturesque slopes of Caucasus mountains in the northern part of Georgia.