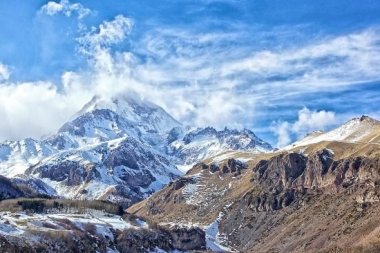 Stepantsminda – (Kazbegi). Climate-balneotherapeutic health resort - prophylaxis, for curing of pylmonological,
gastrological diseases. Here is fresh and clear air, it has the positive influence on the breath organs of non-tuberculosis diseases. Beside of mountain climate here is also mineral water springs. These mineral waters are used for drinking-curing of diseases of digestive organs.
Kazbegi forest reserve includes the interesting gorges in point of eco-tourism: Truso, Sno, Dariali and Khando. The tourists are exalted, with the life-style of local people. Almost in every village are kept the old traditions and customs.
In the Region are some resorts where are possible curable and rafting tourism.