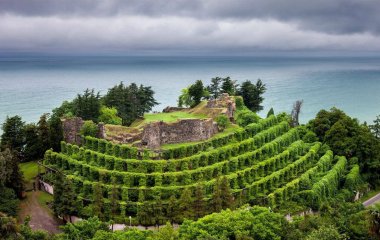 There are many historical monuments in Adjara but one of the most popular is the Petra Fortress. Situated 20 km away from Batumi, stretched on an area of 7 ha the early Middle Ages fortress of Petra has been raising the interest of historians and visitors. It is one of the oldest monuments of material culture of the eastern Black Sea. In the 4th century, the Byzantine Emperor Justinian built a big city there. Petra is a Greek word and means "rock." The Petra acropolis was situated on the rocky hill at the seaside and along with the stone fence it was protected by a rocky relief from the land.
On the territory of this rocky city passed a narrow seaside stretch, which connected Georgia Byzantium, Iran and Armenia. Therefore, it was the center of an important trade monopoly. The Petra fortress has always been an object of discord between the empires of Iran and Byzantium. They were both interested in owning Petra as their political and economic expansion in the region depended on the control of it. Later, Russia and Turkey fought for this beautiful fortress. Petra had certain trade importance in the 19th century as well.
Archeological excavations of recent decades in the Petra yard revealed ruins of a big three-part Basilika and a bath. Existence of a church here confirms the note that one of the four episcopacies of Lazika was situated in Petra.
The museum of the Tsikhisdziri reserve keeps artifacts discovered during archeological excavations on the territory of the Petra complex as well as randomly discovered items of the large period from the antique age until and including the Middle Ages; in particular, remnants of the 5th century Basilika, architectural details of marble, stone capital, fragments of mosaic, tombs, materials, fighting and industrial tools of the 8th -6th centuries B.C.